The chancellor of the University of Physical Education, Dr. Ferenc Genzwein, Othmar Michl, the president of the Economic Advisory Board of the University, and the Head of the International Relations Directorate, Dr. Judit Kádár and Andrea Rédli, Coordinator for International Relations, met personally with the heads of the PH Burgenland (Dr. Gundl Rauter, Dr. Eva Burger, Mag. Sabine Haider, Mag. Irma Ortner Lidy) in Eisenstadt.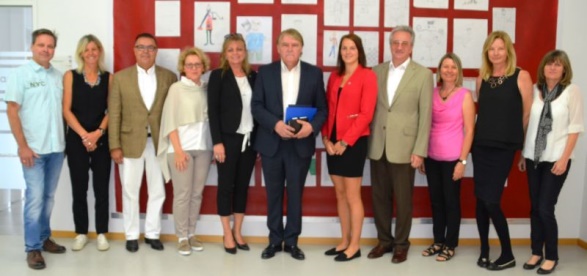 The rector of the Austrian College Mag. Dr. Walter Degendorfer presented the training system of his institution and addressed the possible areas of cooperation.
The parties are particularly interested in the future cooperation of a joint training in the short term, which will be implemented in three languages: Hungarian, German and English, in Burgenland. The leaders of the two institutions will meet again in Budapest, at the University of Physical Education in September, 2017 when the clarification of the tasks and timing of the specific concrete implementation will come to the fore. The excellent basis for the cooperation is the previously signed Erasmus+ framework agreement, which allows the mobilization between the two institutions.