Program Learning Outcomes
Attitudes: Ideal candidates for the International Sports Diplomacy Postgraduate Specialisation Programme embody open-mindedness and flexibility, demonstrating a goal-oriented approach combined with an unwavering determination and strong work ethic. They exemplify helpfulness and maintain a positive attitude, while showcasing adept complex and critical thinking skills. Empathy and a deep respect for cultural diversity drive their interactions, and they engage in careful consideration of various perspectives. Candidates eagerly embrace learning, seeking to comprehend intricate correlations and accept institutional priorities. Their readiness to delve into challenging situations, coupled with an innate ability to integrate diverse sources of knowledge, positions them as a prime candidate for this transdisciplinary endeavor.
Knowledge: Embark on an enriching journey with our distinguished hybrid International Sports Diplomacy Postgraduate Specialisation Programme, thoughtfully crafted to deepen your grasp of the intricate interplay between international relations and sports governance. Through a comprehensive curriculum encompassing the foundational tenets of diplomacy, strategic planning, and diplomatic methodology, you will adeptly navigate the intricate terrain that bridges the sport industry, civil sector, and prevailing global trends. By delving into communication protocols, deciphering the dynamics of international sport organizations and events, and exploring the nuanced realms of legal and marketing aspects intrinsic to Sports Diplomacy, you will gain a holistic perspective. Upon the successful completion of SDP, you will possess a complex understanding of the fundamentals of diplomacy, strategic planning and diplomatic methodology, sports governance, sport industry and the civil sector in the international arena, global, regional and national trends shaping sports and diplomacy, protocol in international relations, responsibility over various forms of communication, understanding international sports organizations, relations and events, law and marketing relevant in SD, correlations between SD and society, as of inclusion and integration through sports for all/grassroots SD, awareness of sport media, and the basics of international sport events. Equipped with this knowledge, you will be well-prepared to actively contribute to international sport events, emerging as a catalyst for positive change in a world where Sports Diplomacy holds increasing significance. Join us in this educational odyssey, where you will emerge as a skilled advocate of Sports Diplomacy, poised to shape a more harmonious global landscape through astute insights and strategic acumen.
Skills: Completing a International Sports Diplomacy Postgraduate Specialisation Programme equips participants with a diverse skill set, ranging from effective communication and strategic planning to adept negotiation and creative problem-solving. Aspiring participants gain proficiency in decision-making and protocol adherence, enhancing their ability to navigate complex international scenarios. The program fosters expertise in rhetoric and institutional representation, empowering individuals for impactful media appearances and adept networking. Graduates emerge with an exceptional knack for organizing meetings and handling challenging situations, complemented by a refined aptitude for stress management and responsible media content creation.
Autonomy and responsibility: SDP graduates should fully understand both their responsibility for the institution they represent, and their individual sphere of action that entails large responsibility in various matters. They should be fully aware of the limitations of their position and at the same time be ready to act up to the fullest capacity they have to achieve the preset goals.
General competencies: Our comprehensive SDP offers a holistic approach to develop essential general competencies. Through engaging modules, you will master the art of negotiations, effective project management, diplomatic protocol, crisis management, assertive communication and written business communication. Additionally, you will broaden your horizons by gaining a more profound understanding of advocacy, accuracy, leadership, team spirit, management, thus you will be able to make sound judgments under uncertain conditions, while demonstrating team spirit and emotional intelligence.
This part-time hybrid program is highly practice oriented, interdisciplinary and diverse as for the array of professional areas covered. The international team of faculty and guest lecturers facilitates a unique blend of study experiences offered on various platforms: the hybrid format is to give the required flexibility for the participants to have more control over their study time periods, since the majority of the academic period is taught online, with synchronous and asynchronous teaching methods. The two-week on campus modules each term are essential to familiarize with specific in person competencies, such as communication and diplomacy practice. Through the extensive academic, diplomatic and sport administrational network of HUSS and its partner universities, students can enjoy great placement choices and multiple prospective study topics for their project that leads up to their final exam. The faculty members are engaged in both theoretical and practical approaches to Sport Diplomacy and all have substantial experiences in their specific area.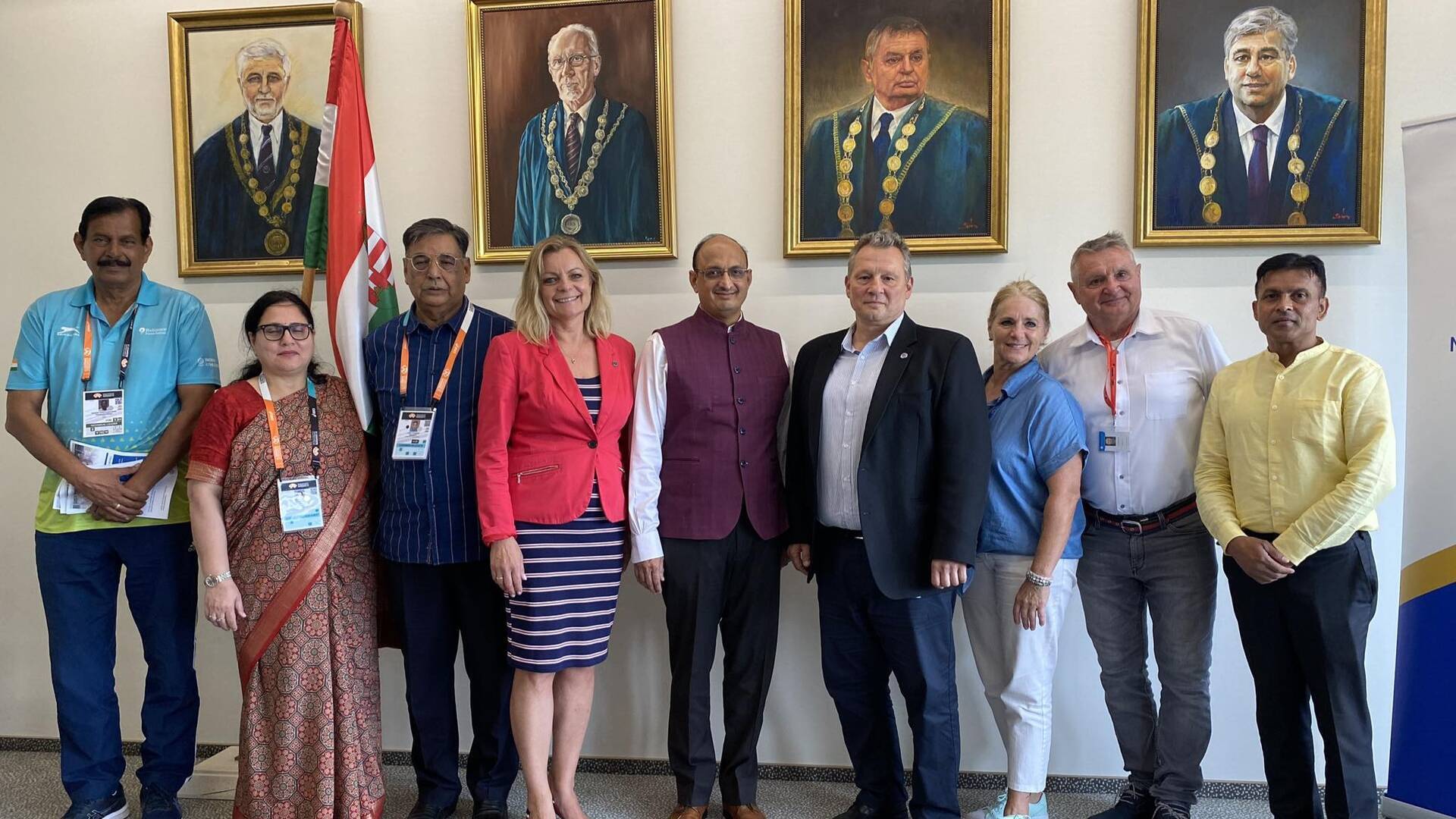 Core subjects
Diplomacy

International Relations, Diplomatic Theory
Diplomatic Practice
A Historical Approach to SD in Central Europe

Sport in Society, Sport for All
International Sport Law
Public Administration and Policy
Global Sport Policy and Politics

International Sport Organizations
Global Sport Relations,
International Sport Events

Grassroots Sports Diplomacy
Communication

Negotiations
Public Speaking and Media Presence
Written Communication

Protocol, Event Management
Project Methodology, Fundraising, Marketing
Program structure
In Term 1, the program initiates with a comprehensive orientation during Week 1, focused on program introduction and preparatory guidance. Week 2 is dedicated to individual preparations, resource collection, course material acquisition, study strategy development, and the creation of individual program plans. Consultations for program and project planning are also conducted during this phase.
Weeks 3 to 6 feature a series of online contact classes, each lasting 90 minutes, complemented by 20-minute individual consultation sessions. Weeks 8 and 9 mark the commence of on-campus classes, followed by Weeks 10 and 11, which revert to an online format. Term 1 wraps up in Weeks 12 and 13 with exams.
Term 2 begins with an online review of Term 1 and an introduction to the curriculum for the following weeks. Weeks 2 to 10 consist of online contact classes, while Weeks 11 and 12 incorporate on-site classes, which are also accessible online. Weeks 13 to 15 are dedicated to internships, job shadowing, and project work. The program ends with a final examination or portfolio presentation in Week 16.
Curriculum: soon
Rules and regulations: soon
Faculty
Silvija Mitevska
SDP external SD relations, internships
This email address is being protected from spambots. You need JavaScript enabled to view it.
Managing Director at Sport Social Solutions
Sport Global Policy, Sport Administration, Gender Equality in Sports/Administration
Dr. Marko Begović
SDP external academic relations/ project and thesis coordinator
This email address is being protected from spambots. You need JavaScript enabled to view it.
Associate Professor at Faculty of Business Administration and Social Sciences - Molde University College (Norway)/ Senior Lecturer, Faculty of Sport (Serbia)
Sport Policy, Public Administration, Sports Law, International Relations
Dr. habil György Suha
Professional program advisor
This email address is being protected from spambots. You need JavaScript enabled to view it.
Milton Friedman University, Budapest/ Ambassador Parttime instructor at HUSS SD (H) program
Diplomacy, International Relations, Methodology in Diplomacy
Dr. habil Judit Kadar
SDP program development (head of program dev. and partnerships)
This email address is being protected from spambots. You need JavaScript enabled to view it.
Director of International Relations at the Hungarian University of Sports Science (HUSS), Associate professor
Intercultural Communication, Negotiations, Networking, Protocol, Showcasing Your Country (national brand)
Vivien Ammerling
Program administration and communication
This email address is being protected from spambots. You need JavaScript enabled to view it.
Hungarian University of Sports Science (HUSS)
Internship sites
Soon